Since its maiden flight on October 13, 1996, Bombardier's Global line of aircraft has been a popular business jet choice for businesses and high-net-worth individuals around the world. There is little question as to why: With an available range of 6,000 nautical miles, Bombardier's flagship aircraft makes it easy for travelers to fly non-stop halfway around the world.
In this aircraft review, we'll cover primary aspects related to the Global 6000: technical specifications, design options, technology, investment costs and more. While Bombardier has transitioned production of the Global 6000 into the Global 6500, there is still a sizable population of Global 6000 aircraft in the market that, for a multitude of reasons, have caught the attention of travelers seeking both long-range performance and comfort.
The Global 6000 at a Glance
Maximum Range
6,000 nm / 11,112 km
Top Speed
0.89 Mach / 510 KTAs / 944 km/h
Typical Cruise Speed
0.85 Mach / 487 KTAs / 902 km/h
Maximum Altitude
51,000 ft / 14,545 m
Cabin Dimensions
Length
43 ft 3 in / 13.18 m
Height
6 ft 2 in / 1.88 m
Exterior Dimensions
Length
99 ft 5 in / 30.3 m
Wingspan
94 ft / 28.7 m
Wing Area
1,021 sq. ft / 94.8 sq. m
Height
25 ft 6 in / 7.8 m
Passengers
13­–17
Cockpit Design
Photo Credit: VistaJet
The Global 6000's clean design starts in the cockpit, with deep, ergonomic seats and leather-wrapped yokes. Its popular avionics platform, known as Bombardier's Vision flight deck, is modeled after the Rockwell Collins Pro Line Fusion avionics suite and features a synthetic vision system on the head-up display to support situational awareness. As to be expected — and to meet all of the current performance-based navigation system requirements — the Vision flight deck includes Wide Area Augmentation System, LPV Approach, and RNAV, En-route RNP & RNP AR Approaches.
Cabin Design
When it comes to cabin size and design, the Global 6000's cabin size and interior has often been used as a benchmark for comparing passenger comfort. Travelers board through the main entryway and pass through a full-size galley. Opposite the galley, there is a dedicated full-size crew rest area to manage long-range destinations when additional crewmembers are required. Travelers will also pass by a forward lavatory before entering the main cabin.
The main cabin is divided into three zones, each adaptable but designed to serve different purposes. Depending on the floorplan selected, each zone includes seats that are leather-upholstered with 180-degree swivel and forward and aft tracking and that recline to provide berthing capabilities. Each cabin zone can be separated from the others either by a privacy curtain or a solid bulkhead with a sliding door for additional privacy. In order to reduce aerodynamic and engine noise in the cabin, soundproofing material has been added to the floorboards, floor ducts and bulkhead at the junction with the sidewall.
The Global 6000 offers several seat configurations, which can be seen in the figure below. For more information on available floorplan options, we advise travelers to refer to the Global 6000 Optional Equipment Catalog.
Photo Credit: VistaJet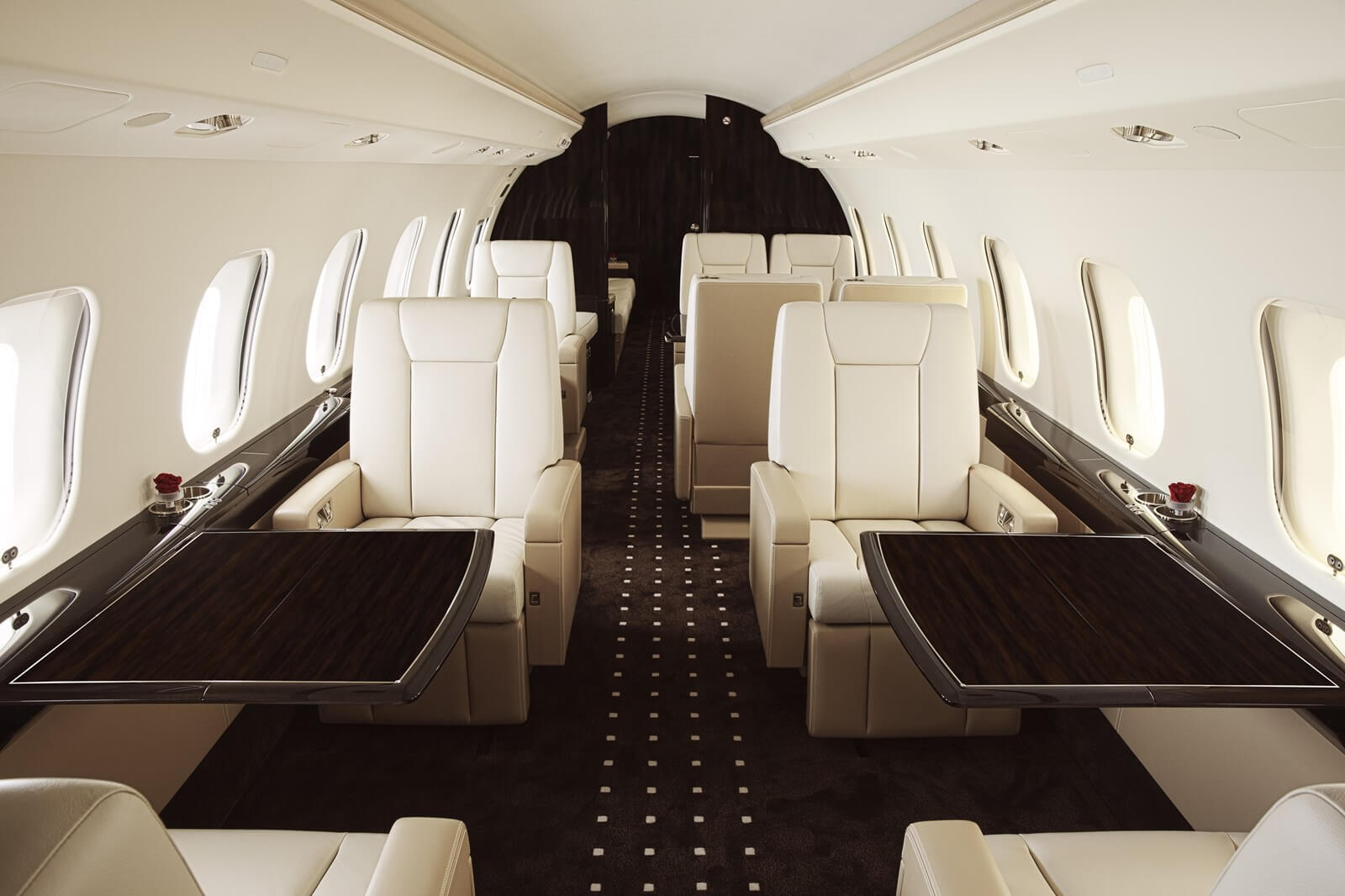 Photo Credit: VistaJet
When selecting a standard configuration, the forward cabin includes four single executive seats with recliner style footrests, lumbar control and full recline, as well as two bi-fold tables and a 24-inch bulkhead HD monitor. A single floor mat heater is installed under each of the four seats in the forward cabin to provide additional warmth to the floor area; travelers can adjust the temperature for these heaters using the cabin management system.
Photo Credit: VistaJet
Moving into the mid cabin, travelers will notice a conference grouping, including two double seats with lumbar control, full recline and swivel inboard seat capability and a height-adjustable conference table. Opposite the conference group, the standard mid cabin also features a credenza and low cabinet for additional storage.
Photo Credit: VistaJet
The aft cabin commonly features a three-place divan that is able to be berthed and sits opposite two single executive seats with recliner style footrests, lumbar control, full recline and swivel capability. The aft cabin also includes one bi-fold table and a 24-inch bulkhead HD monitor.
Situated in the back of the cabin is the second lavatory and, finally, an aft baggage area. The lavatory includes a large mirror, vanity and both cabinet and closet storage. Optional floorplan designs within this area can include a hand-held sprayer and a stand-up shower with rain-style shower head and anti-slip floor. The Global 6000 is equipped with a 17 U.S. gallon water tank, allowing for a "true" shower experience. Behind the rear lavatory is 195 cu.ft of baggage area with storage features, including a wardrobe compartment, fold-up hang-up bar, removable hang-up bar and fold-down shelving.
Technology
The Global 6000's entertainment system includes the following features:
Ka-band high-speed in-flight internet connectivity
Multiple pop-up HD LCD monitor displays
Wireless music streaming capability
5.1 surround sound system
Universal HDMI and USB ports
A media center for streaming and mirroring
Airshow Tailwind 500 system for Direct Broadcast Satellite TV
Wireless control of cabin environment and entertainment via personal electronic device
Go-Go L5 wi-fi (U.S. domestic only)
Exterior Design
The Global 6000's exterior features clean lines and standard two-tone, split color paint schemes. However, many owners choose to integrate paint schemes and colors with both metallic and non-metallic paint that incorporate their own custom flag or logo.
Acquisition Cost
Given that Global 6000 production began in 2012 and ended in 2020, the acquisition cost of a pre-owned Global 6000 varies depending on the age of the model, prior utilization and the aircraft's unique condition.
Based on current industry data, the cost of acquiring a pre-owned Global 6000 ranges from the low $20M to the low $30M. Again, prices reflect the year of manufacture, installed equipment, aircraft condition and the amount of accumulated utilization.
Aircraft models often compared to the Global 6000 include the Gulfstream 550 and the Falcon 7X, both of which boast similar range capability and comparable acquisition costs.
Direct Operating Costs (Hourly)
strong>Note:All direct operating costs listed are estimated; actual expenses will vary based on total annual flight hours.
| | |
| --- | --- |
| Fuel  | Approximately $1,792 per hour |
| Maintenance | Approximately $2007 per hour |
| Engine Overhaul  | Approximately $1,349 per hour |
| Miscellaneous  | Approximately $683 per hour |
|  Total Direct Costs | Approximately $5,831 per hour |
Source: Conklin de Decker
Fixed Costs
Note: All fixed costs listed are estimated; actual expenses will vary based on crew experience and certifications, hangar location, coverage, and so on.
| | |
| --- | --- |
| Crew  | Approximately $720,000 per year (includes flight attendant) |
| Crew Training | Approximately $130,000 per year |
| Hangar | Approximately $131,000 per year |
| Insurance | Approximately $96,260 per year |
| Miscellaneous | Approximately $218,099 per year |
| Total Fixed Costs | Approximately $1,329,659 per year |
Source: Conklin de Decker
Is a Global 6000 Right for You?
When evaluating private aviation options, an important thing to consider is identifying your primary and secondary travel destinations. We recommend that prospective buyers determine what model aircraft will effectively accommodate 80% to 85% of their primary travel needs. Next, consider whether the same aircraft can still accommodate the remaining 15% to 20% of your secondary travel needs, or whether you'll require alternate planning, such as an added fuel stop or plans to utilize a different means of travel, such as chartering a smaller aircraft or even a helicopter.
As a long-range aircraft, the Bombardier Global 6000 is best suited for missions of five or more hours. However, despite its size and long-range capability, the Global 6000 has remarkable short field performance, which means that airports of a smaller size can be used based on the Global 6000's takeoff and landing performance.
Any traveler interested in a spacious cabin with a need for additional passenger capacity and tolerance for a degree of inefficiency for shorter trips would find that Global 6000 can satisfy most — perhaps even all — of their travel requirements. Any trade-offs associated with shorter trips can be calculated and predicted with itemized budgets.
How to Acquire a Bombardier Global 6000
Whether you're interested in acquiring a Bombardier Global 6000 or any other aircraft model, Essex Aviation is here to provide the expertise and support necessary to make the experience as smooth as possible. We have managed Global 6000 acquisitions for numerous high-profile clients and, with a combined 95 years of aviation experience, we are uniquely qualified to help meet all of your private aviation needs. Contact us today to learn more.